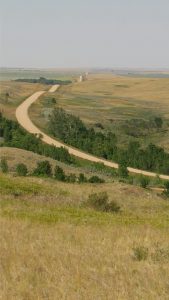 Typically, anniversaries are times of looking back, reminiscing and celebrating successes. My partners have already written about the founding of WCEA 25 years ago and stories that we share of our past.
But anniversaries are also an opportunity to look forward and prepare for the future, ensuring that what we do now helps those who come after us to succeed at least as well as we have.
I was reminded of that this summer when I had the privilege of attending the 10th anniversary of a little-known, intimate musical festival hosted by a Fransaskois family on their farm in southern Saskatchewan. The third generation managing the farm today told many stories of their pioneer past. But just as often, they preferred to look to the future as the fourth generation, now young adults and already working to preserve the land, carry on. Being a family of amazing musicians, they told many of those stories in song, often with parents, children, and cousins performing together. They connected the past, present, and future, just like a seemingly endless Prairie road—a beautiful landscape, whether looking forward or back.
So what lies ahead for WCEA and the editing profession generally? By looking back over our first quarter century, and imagining 25 years down the road, I offer up my (entirely unscientific) five predictions:
1.     We'll still be in demand as editors and writers. Technology will advance, and maybe artificial intelligence will attempt to be the perfect replacement, but only if humans actually turn it on, and then understand and pay attention to what it flags.
2.     We will still have lots of work, but in different places. Yes, newspapers are suffering. Yes, book publishers struggle and pay editors poorly. Yes, many self-published authors think they don't need editing. But those challenges have been around for years. The changing technology has introduced some limiters, but it has also opened doors to new markets. I believe the opportunities will remain for those of us willing to risk taking on different types of work for different types of clients.
3.     We will collaborate with other professionals more often. Much of WCEA's success has been due to our collaborative spirit—sharing talents, resources, expertise, and time. I believe that spirit will extend outward to include partnering with the future incarnations of production, design, and marketing, whatever they may be, to serve client and reader demands. The hybrid self-publishing models have already learned this lesson.
4.     Our skills as trainers and coaches will serve us well. "Lifelong learning" has become a catchphrase for organizations of all types and sizes. The demand for turning out better communicators won't let up. We'll be there—learning ourselves the best way to deliver that training.  
5.     Most important, WCEA will still be "looking after the words in your life," and celebrating its 50th anniversary in 2042. I want to be invited to the party! I may have hung up my soccer boots by then, but with a little luck I'll be there to raise a toast—to past, present, and future.