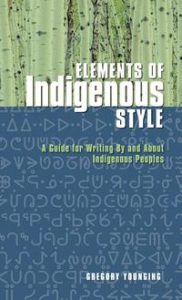 As we have celebrated the 25th anniversary of West Coast Editorial Associates in 2017, we've looked at our past, present, and future, as well as a few editorial highlights of 1992, the year WCEA was formed. I have recently been looking back even farther, into the 1980s, thinking about the changing words and phrases used to refer to the people who have been living in what is now Canada since time immemorial.
When I first began working at publishing companies in the 1980s, editing books on West Coast history and politics, we referred to "Indians" without hesitation. At times we would also use the terms "natives" or "native peoples," and I remember some authors using "aboriginal," though publishers' style guides often flagged this as being too academic for the trade books I was editing. Another debate was whether "Native" or "Aboriginal" should be capitalized.
By the 1990s, the phrase "First Nations" began appearing in trade books. I have a distinct memory of discussing the use of "First Nations" instead of "Indians" with a group of publishing colleagues in 1993 or 1994; by then the broader Canadian publishing community, made up mainly of non-Indigenous people, was consciously grappling with the question of terminology.
In the past 10 or so years, "Indigenous peoples," "Aboriginal peoples," and "First Nations" have become the preferred terms when speaking generally, with "Indigenous peoples" taking precedence recently. For example, the Liberal government elected in October 2015 changed the name of the responsible federal department from "Aboriginal and Northern Development Canada" to "Indigenous and Northern Affairs Canada" (the legal name of the department is still Indian Affairs and Northern Development, and "Indian" is used in legal and historical documents like the Indian Act; some things will take a while to change). Animikii, an Indigenous-owned tech company in Victoria, has provided a useful explanation of why "Indigenous" is used instead of "Aboriginal."
Probably the biggest change today is that Indigenous people themselves are speaking out—and being heard as they tell non-Indigenous editors, publishers, writers, and readers what terms and style they prefer. There are also more Indigenous editors now, and early next year an Indigenous style guide will be available, Elements of Indigenous Style: A Guide for Writing By and About Indigenous Peoples. The author, Greg Younging, was formerly managing editor of Theytus Books, where he began work on the style guide in the 1990s, and assistant director of research for the Truth and Reconciliation Commission of Canada, and is currently on faculty with the Indigenous Studies Program at University of British Columbia Okanagan. Elements of Indigenous Style will set out Indigenous-based editorial practices and concerns to help writers, editors, and publishers produce material that reflects Indigenous peoples and their voices in an appropriate and respectful manner.
In late October, Greg Younging introduced his style guide to a group of BC editors and writers at a seminar co-presented by Editors BC and the Association of Book Publishers of British Columbia. Those in attendance, almost exclusively non-Indigenous, were eager to be involved in moving the language forward respectfully and inclusively, and excited to learn more about Elements of Indigenous Style. Though the book won't be available till February 2018, it will surely be welcomed as a late Christmas present and a necessary new tool for anyone working on any form of writing involving Indigenous people.