Putting a price on your work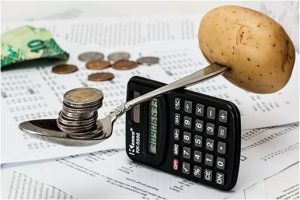 There's been a lot of fresh chatter recently among editors about rates. Maybe it's because at this time of year we're all looking over our accounts, reviewing how much we did—or didn't—earn, paying bills, planning for the next 12 months, wondering what we can do to realize a higher return.
This conversation hasn't changed much in all the years I've been in the biz. For the first 15 years of my career, I worked inhouse for a trade publisher that paid competitive salaries for the industry, which means "not very much." It was my responsibility to hire freelancers, and I apologized to all of them because we offered such a low hourly rate—but no lower than any other trade publisher did.
I've been self-employed now for longer than I worked inhouse, and I've learned a few things over the years about what and how to charge for my time and earn what I believe I'm worth. The main lesson is that we editors don't have to allow ourselves to be controlled by the low end of rates, or as Iva Cheung laments, "trapped underwater by the anchor of trade-publishing rates."
I believe the first step to earning what you're worth is to stop defining yourself as an editor. Instead, think of yourself as a business person, one who offers editorial services. As a business person, you need to determine what it takes to make your business survive and thrive. Don't start by asking, "How much do editors charge?" That question hands control over to someone else. Instead, ask, "How much do I need to charge?" It surprises me how many self-employed editors don't start at this point, which is fundamental to any enterprise. Without that knowledge, you are flying blind.
You can find detailed advice on how to determine that magic number in various business books, websites, and blogs. Richard Adin points to several sources in his helpful posting that speaks specifically to editors and rates, and Editors BC is offering two timely, relevant workshops on the subject later this month.
In short, you must figure out how much you need to pay all the bills and have money left over—keeping in mind that profit isn't a dirty word, and yes you do deserve a vacation or two. Once you have that figure, you can calculate your hourly rate by dividing by 1,000. (Experts advise that no matter how efficient you are, you won't be able to work much more than 1,000 billable hours a year.)
If your calculated hourly rate is higher than what some of your clients are willing to pay (and it will be), it's time to start making some smart business choices. Here are a few to think about.
1. Mix your client base
Choose to limit how much you work for lower-paying clients. I still love working on trade books and with the people in that industry, all of whom I have great respect for. I also know that book publishers and other small organizations with very limited budgets don't have much room to manoeuvre. They need to make their own costing decisions based on their business, not mine. So, I pick and choose the projects I accept to meet my target earnings. There's nothing wrong with the high-paying clients providing you with the means to sometimes work for lower-paying ones!
Risks: Sometimes, in finding those higher-paying clients, you may find yourself stepping out of your comfort zone, working on subject matter or in an industry that is new to you, and wondering whether you can do your best work. As long as you're clear with the client about what you can deliver, any other risk is theirs, not yours.
Benefits: You will learn something new, which will deepen your skills and broaden your potential client base for future work.
2. Charge the same rate for all services
Typically, editors charge less for proofreading than copy editing and less for copy editing than substantive editing. Why? The way I see it, an hour of my time is an hour of my time. This concept became a line in the sand for me several years ago. Different clients may pay me different rates, but I ask for the same rate from a client no matter what service I am providing. Sometimes I get pushback, but generally I've found clients accept my approach after I've politely, professionally stated my case.
Risks: The client won't accept your one-size-fits-all rate. (But you won't know that if you don't try. The client may want to negotiate, but it's unlikely you'll be met with a flat-out no.)
Benefits: You get what you asked for! Or, even if you don't, you've taken a step toward educating the client about realistic rates.
3. Charge rush and weekend rates
This is another principle I now firmly apply. If a client calls me at 3 p.m. on Friday asking me to have a job done by 9 a.m. on Monday, I'll make it clear I'll be charging time-and-a-half. Clients who need work done that fast generally recognize it comes with a price.
Risks: The client says no and you lose the job. (But that's unlikely, because in these cases clearly the client has few choices.)
Benefits: You get the job and are paid handsomely for it. Or you get the job, but the client extends the delivery date by several days. Win-win. You still get the weekend; they get the work done.
4. Leave the freelance world
I know this won't be your first choice, but maybe it's what you have to do for a time. Self-employed life isn't for everyone, and if you have household and family financial constraints, and no second household income earner who can help fill the coffers, an inhouse job with a secure, constant income stream and health benefits can relieve a lot of stress. The freelance life will always be out there if that's what you aspire to.
* * *
Wishing it were different is not a choice
I wish that trade book publishers paid editors more. I wish that those publishers, seeing me choose to work for other, higher-paying clients, would wake up and say, "Look what we're missing by not hiring that amazing, talented editor! We must change our rates today!" I wish that book publishing wasn't such a marginal business for the owners, who rely largely on sales from bookstores, a segment of the industry with even tighter profit margins. I wish that all organizations had the budget to pay editors what they are worth. I even wish that I didn't have to think about all this and that every one of my clients would offer a high rate before I opened my mouth, freeing me from those selling tasks I don't particularly enjoy.
But wishes don't run a business. Actions based on well-considered decisions do. Individually, you must take the steps that work for you and your business. Together, we business owners need to keep promoting the editorial profession, educating clients of the value of our services, and supporting each other in sharing resources and knowledge.