WCEA's 2019 holiday season book club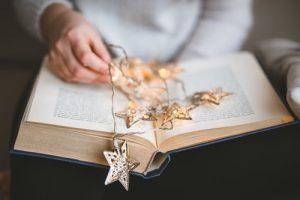 As editors, most of us probably consider books among the very best of gifts we ever received—or gave. A recommendation for a good read can be just as valuable. Here's a sampling of what we dipped into this year that we'd like to share with you: from WCEA to you.
Audrey recommends Happiness, by Aminatta Forna, a story of war zones and hostages, chance meetings in London, and the two-legged and four-legged outsiders that we condemn when we aren't ignoring them. This essay on urban wildlife is a companion to the novel.
Barb recommends André Aciman's Call Me by Your Name, one of the most beautiful books she has read in a long time. It chronicles the sudden and intense love that unfolds between 17-year-old Elio and graduate student Oliver one summer on the Italian Riviera. The story is passionate and heartbreaking, full of longing and desire.
For a short but satisfying read, Frances recommends A Wild Swan and Other Tales, by Pulitzer Prize winner Michael Cunningham. By turns hilarious and poignant, this collection of reimagined fairy tales, illustrated by Yuko Shimizu, is a box of literary truffles.
Lana recommends Boris Pasternak's Nobel Prize–winning Doctor Zhivago, an epic of beauty and brutality that has been called one of the "10 Russian novels to read before you die."
Merrie-Ellen recommends The Other End of the Line (or any of the other 26 Inspector Montalbano novels translated to date) by Sicilian author Andrea Camilleri, who died this year at 93. Equally lovable is the Italian television series, if you're lucky enough to have a video store nearby or you're able to stream them.
Rowena and her daughters shared a memorable book during their evening story time. Written by Sara Pennypacker and illustrated by Jon Klassen, Pax is the story of a young boy and a fox, of friendship and sorrow, of adventure and discovery.
For a taste of non-fiction, Ruth recommends the remarkable visual memoir Belonging: A German Reckons with History and Home, by Nora Krug, who combines interviews, photos and letters, and archival material to reveal the truth of her family's World War II past and its continuing impact on those who came after.
Happy holiday reading