A gift (or two or three) for the holidays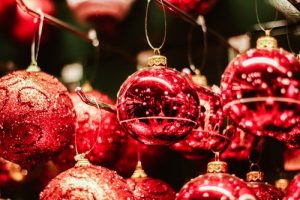 The holiday season is upon us, and many will be busy looking for that just-right gift for friends and family. As happy as this time of year may be for those who celebrate, the busy-ness of it all can also be stressful. As an antidote, here are some suggestions for small gifts to yourself for a year of good work.
Advent calendars have the advantage of giving a gift every day of the month up to December 25. Audrey looks forward to Jacquie Lawson's annual online Advent calendar. This year the scene is Edinburgh, and 25 baubles are hanging enticingly on familiar landmarks and storefronts in the Scottish city, just waiting for their opening day to come. Even before December 1, she can settle down in her "cozy Edinburgh home" and play the addictive bauble-smashing game—a sure stress reliever!
For a literary twist on the tradition, Frances recommends the Short Story Advent Calendar. The calendar's daily stories, each one a tiny book, are eclectic and entertaining—and shareable. Or if you're a hard-core tea drinker like Merrie-Ellen, consider her recommendation of the Tea Lover Advent Calendar or the Herbal Advent Calendar from Vancouver Island's Westholme Tea Company. You could even pair the tea with an exquisite ceramic creation by Westholme co-founder, Margit Nellemann.
To set the mood for a peaceful holiday, this year Barb is giving herself the gift of light: a Himalayan salt lamp to counteract the gloominess of winter. While none of the claims about the health benefits of these lamps have been proven, Barb isn't deterred; she knows the lamp's warm orange glow will be calming and help get her through the busy, dark winter months ahead.
If you're crafty or artistically inclined in any way, Lana recommends a subscription to UPPERCASE. She's been treating herself to this gem of a magazine—whose tag line is "for the creative and curious"—since discovering it in her favourite stationery shop several years ago. Each issue is a celebration of creativity, and publisher Janine Vangool's passions for design, typography, and vintage ephemera are evident on every wonderful page.
Rowena suggests reading poetry aloud with family, friends, children, pets, or just yourself. You might find inspiration, as she does, in The Lost Words: A Spell Book (House of Anansi Press, 2018), which celebrates 20 nature words—from acorn to wren—dropped from the pages of the most recent edition of the Oxford Junior Dictionary. The Lost Words combines poems by Robert Macfarlane with paintings by Jackie Morris for an auditory and visual treat.
Finally, Ruth is giving herself her annual "gift of permission," and she hopes you do too. That means allowing yourself to let go of a few obligations so you better enjoy visiting with friends, sharing a meal, and doing whatever helps energize you during this busy time. In short, it means taking care of yourself for a few days at least, and trying to carry that practice into the new year. Life coach Dave Rowley has more to say about this, along with six other non-tangible gifts to yourself.
Happy Holidays, everyone!