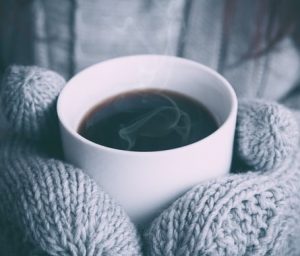 If ever there has been a year to spread some comfort, surely 2020 is it. We do wish we could give you instant access to a COVID-19-free world or, at least, a reliable and long-lasting vaccine. Until then, we offer up our individual comforts, which we hope will provide you with some ideas for pleasure and escape over the holiday season.
Amy suggests curling up with a blanket, a good book, and a cup of tea. You might consider a literary-themed blanket from Storiarts and a cup of Editors' Blend or Library Blend tea from Murchie's. Editors' Blend was created exclusively for Editors Canada for the 2011 conference in Vancouver.
Thanks to the wonderful Mental Floss website, Audrey plans to pepper the season with obsolete Christmas words. Given current COVID-19 restrictions, she won't have to worry too much about scurryfunging or hiemating, but she's looking forward to belly-cheer (though not so much that a yule-hole will be necessary). She wishes all readers an apolaustic holiday!
These winter months of short days and long nights are hard, but hope is on the horizon in the form of a vaccine. In the meantime, there are books, and movies—and sugar! This chocolate pecan square is Barb's all-time favourite Christmas square. She says baking with her family is going to help get her through to 2021.
To preoccupy herself from the news, Lana has been making things: photo books about family trips, new Christmas cards out of recycled ones, and digital advent calendars. Oh, and a weekly classic cocktail.
Lucy's favourite escape during the holidays is doing jigsaw puzzles. Many are passed from friend to friend, but she quite likes the ones by Galison. Art x Puzzles are limited-edition puzzles that support artists affected by the pandemic.
For many hours of serious distraction (and historical interest, if you need to justify it), Merrie-Ellen recommends the audiobooks of Patrick O'Brian's 21 Aubrey/Maturin novels, beginning with Master and Commander. You can even support your local bookstore by ordering your audiobooks through Libro.fm.
Rowena suggests heading out with hiking shoes or snowshoes to a forest, beach, headland, riverbank, field, or any other place where you can enjoy the peace that comes from being in nature. When you return, curl up with Jessica J. Lee's captivating Two Trees Make a Forest.
Ruth likes to immerse herself in mind-bending puzzles: crosswords, jumbles, KenKen, and Hidato. The twists and turns of word and logic challenges let her forget, for a few minutes, the activities we are missing this year.
To everyone, from all of us at WCEA: Here's to a healthy, happy 2021!