Two new books (this season) by Rowena Rae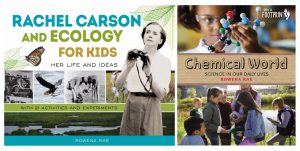 Despite these challenging times, we're all celebrating (at an appropriate distance) our partner Rowena Rae's publication of not one but two children's books this spring.
Rachel Carson and Ecology for Kids: Her Life and Ideas was released by Chicago Review Press in February as part of its venerable For Kids series. The book explores the personal life and career of Carson, best known for her hugely influential Silent Spring, which exposed the environmental damage caused by synthetic pesticides like DDT. Using examples from Carson's life and works, Rowena's book introduces young readers to key ecological concepts and includes 21 activities and experiments to inspire the next generation of citizens, ecologists, and activists.
Chemical World: Science in Our Daily Lives, a Junior Library Guild Gold Standard selection, is due from Orca Book Publishers in May. The latest in Orca's engaging Footprints series, Chemical World explores some of the chemicals—both naturally occurring and human-made—that we encounter every day. While most of the human-made (synthetic) chemicals were created with good intentions, many have had unintended consequences, compromising the health of ecosystems, animals, and humans. The book invites readers to think about how the things they eat and use might be affecting them and their planet.
And that's not all. Rowena actually has two more titles due out this fall. If there were a prize for most books published in a year, she would surely be shortlisted. Stay tuned!