A fascinating account of pioneer life and early medical practice in northern British Columbia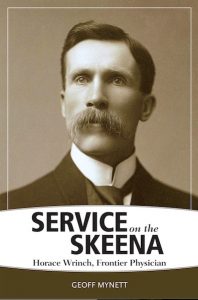 This month marks the arrival in bookstores of Service on the Skeena: Horace Wrinch, Frontier Physician, by Geoff Mynett, published by Ronsdale Press. Geoff brings readers a slice of BC history with this biography of Horace C. Wrinch, farmer, doctor, Methodist minister, magistrate, and two-term Liberal MLA.
Born in England and educated in Ontario and New York, Wrinch travelled by train and sternwheeler to arrive in Hazelton, BC, in 1900. There he built the first hospital in the northern interior (still running today) and for over three decades treated patients, both First Nations and settler, often doing his rounds on horseback. With his wife, Alice, herself a qualified teacher and nurse, he raised a family and together they witnessed many events and changes in BC's north: the building of the Grand Trunk Pacific Railway, the arrival of the first motor car, the Simon Gunanoot murders, and the New Hazelton bank robberies, among others. In the 1920s, Wrinch represented the Skeena riding in the BC legislature, advocating for publicly funded health care.
I had the pleasure of helping Geoff with structural and stylistic editing of the manuscript before Ronsdale Press acquired it. During the months that Geoff and I worked together, I learned a great deal not only about Wrinch, a man of extraordinary energy and resourcefulness, but also about the pioneer history of British Columbia. Geoff drew from hospital reports, church documents, and numerous letters written during Wrinch's life to assemble a fascinating biography and social history. The book also includes maps and photos, which I find as engrossing as the text.
I wish Geoff and Service on the Skeena a wide readership.