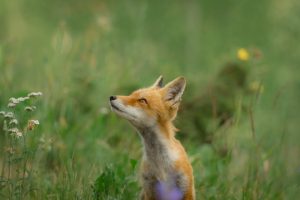 As I get older (and I'm feeling rather "senior" these days), I'm increasingly fascinated by serendipity—the way a chance encounter can lead to happy discoveries both small and large, from a great book to a great life adventure. For us book lovers, of course, finding a new favourite book can lead us not only to other books by the same author but to their own favourite authors, books, and even genres and subjects. One path leads to another, and another, and—sometimes the smaller find becomes entwined with a larger adventure. (My husband claims I married him because he introduced me to the work of Grace Paley, who remains among my all-time favourite authors and humans.)
Here is an example of serendipity of the smaller, but entirely delightful, kind.
About a year ago, in pursuing my interest in slow food, slow fashion, and generally everything slow, I stumbled across slow journalism, which soon led to my subscribing to the quarterly magazine Delayed Gratification. Recently, as I was reading the current issue, an attractive flyer slipped out from the pages and grabbed my attention. It was about Slightly Foxed, a British quarterly literary magazine "for literary nonconformists." I'm not sure I've ever experienced love at first sight, but this came close. I was hooked even before I made it to the Slightly Foxed* website.
Slightly Foxed is indeed "more than just a magazine." Its well-written and accessible articles introduce readers to books that are "no longer new and fashionable but have lasting appeal." Beautifully designed, with an original illustration on the cover of each issue (featuring a fox, of course), it is "good humoured, unpretentious and a bit eccentric, more like a well-read friend than a literary review." I've only just received my first issue, and my "to-read" list has already become much longer.
In addition to the quarterly, there are books! Slightly Foxed Editions are gorgeous cloth-bound reissues of classic memoirs, some well known, like Roald Dahl's Boy and Gerald Durrell's My Family and Other Animals, and others less so, including memoirs by the likes of Hilary Mantel, Eric Newby, and Ernest Shepard (illustrator of the Winnie-the-Pooh books and The Wind in the Willows). The books are produced by Smith Settle using traditional printing and binding methods.
As if that's not enough, there is also the Slightly Foxed Podcast, "Reading off the Beaten Track." Each month, the Slightly Foxed staff, including their various dogs, gather around the kitchen table in their Hoxton Square, East London, office to take listeners behind the scenes, describing what's happening in the publishing cycle, talking with friends and contributors about a particular theme (bookstores, literary festivals, garden writing, etc.), and telling us what they're reading at the moment. A regular segment is a dip into the Slightly Foxed archives, with a reading, usually by an actor, of an article from a previous issue of the magazine. All of the books and authors are listed on the website and in your podcast app, and the staff even offer to help listeners find second-hand copies of any titles that are out of print.
As an editor, I find the podcast especially compelling because of Slightly Foxed founders Gail Perkis and Hazel Wood's intimate knowledge of the publishing industry. (You can hear their story in episode 67 of another British literary podcast, Tea and Tattle.) Both were editors at John Murray before establishing the magazine in 2004, and each episode includes references to familiar territory for editors everywhere—from acquisitions to proofreading. With the occasional dog barking, door closing, and phone ringing in the background (not to mention the sounds of an elevator being installed next door), it feels like you're right there in the office with your editorial colleagues and mentors, and a stack of lovely books and a big pot of strong tea on the table.
What serendipities have come your way recently?
* "Slightly foxed" is a term used in the second-hand book trade to describe the physical condition of a book—from "foxing," spots and browning of paper from age-related deterioration.