A celebration of Canadian children's books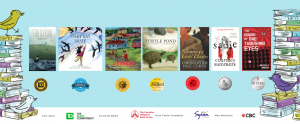 The Canadian Children's Book Centre announced the winners of seven awards for children's literature at a gala event in Toronto last night. Our congratulations to all the winners, including Heather Smith, who won the TD Canadian Children's Literature Award for her middle-grade novel, Ebb & Flow (Kids Can Press); and author James Gladstone and illustrator Karen Reczuch, who took the Norma Fleck Award for Canadian Children's Non-Fiction for their picture book, Turtle Pond (House of Anansi Press).
WCEA partner Merrie-Ellen Wilcox was in town for the event. Her book After Life: Ways We Think About Death (Orca Book Publishers), which we're delighted to add was proofread by partner Audrey McClellan, was shortlisted for both of these awards. We're so proud of Merrie-Ellen, and we congratulate her along with all the authors, illustrators, and publishers whose books were shortlisted.