Merrie-Ellen Wilcox's After Life nominated for two major awards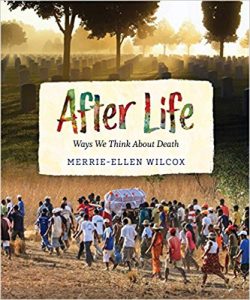 How thrilling to see WCEA partner Merrie-Ellen Wilcox's book After Life: Ways We Think About Death nominated for not just one, but two major awards: the $50,000 TD Canadian Children's Literature Award and the $10,000 Norma Fleck Award for Canadian Children's Non-Fiction.
Wow!
In its announcement of the award finalists, the Canadian Children's Book Centre observed that "every single title nominated has made a valuable contribution to Canadian children's literature."
Noting how After Life (published by Orca Book Publishers) "sensitively broaches an extremely difficult subject," prize jurists also praised the way the book's content, organization, and visual appeal combine to make a usually taboo topic accessible to children and adults alike.
We know how hard Merrie-Ellen worked on the book, and we couldn't be prouder of her, regardless of which authors come out on top when prize winners are announced on October 15.