Season's greetings circa 1992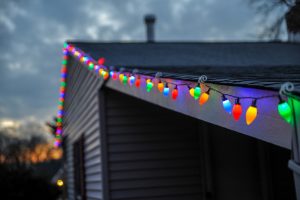 As WCEA's 25th anniversary year winds down, we're casting a nostalgic look back at Christmas 1992. Brian Mulroney was prime minister. Whitney Houston's "I Will Always Love You" topped the Billboard charts. Fax machines ruled, and CDs outsold cassette tapes for the first time ever. Our founders were busy launching West Coast Editorial Associates. And the current partners? Travel back with us as we share memories and recommendations from that long-ago holiday season.
Nothing says Christmas to Audrey like the Jingle Cats singing "Silent Night." She thinks the album may actually have come out in 1993, but…close enough! The video is a little creepy, but Audrey insists that the arrangement grows on you over the years.
Christmas 1992 reminds Barbara of Seinfeld. A student in Vancouver at the time, she didn't have a TV, so the pop cultural phenomenon was a mystery to her until she travelled home to Manitoba for Christmas with her family. Long before Netflix binge-watching, there were VCRs, tapes, and a mom who meticulously recorded her favourite show. Barbara spent hours watching Seinfeld episodes on tape, snug inside her parents' home, protected from the prairie winter.
During her 1992 Christmas break from editing at the House of Commons, Frances invited an Ottawa colleague—call him Robert—to Passion Fish, the latest film by John Sayles, one of her favourite filmmakers. Frances had already seen the movie, loved it, and was dying to share it. Her acquaintance, however, loathed the film and made no bones about saying so afterwards. Thus ended their tentative relationship. Lessons learned: (1) stories matter, (2) Passion Fish is unquestionably fabulous (100% fresh on Rotten Tomatoes).
Georgina recalls that 1992 was the year her daughter started playschool on the small island where they lived. One young classmate had a December birthday. What do parents do when hosting a kids' birthday party in the run-up to Christmas? These creative ones started an annual tradition for their child's party: make your own gingerbread house. The results, though not over the top like this one, never failed to wow in piped-icing-and-sprinkles extravagance. Looking for gingerbread house inspiration this year? Peruse the eye candy (and instructions) here.
Lana recommends putting on some velvet or sequins and finding a holiday dance party, like the one she attended in 1992 during the final year of her undergraduate degree in Winnipeg. Being in Manitoba, that party was a social, featuring cheap mixed drinks, rye bread and kielbasa, and a DJ playing all the latest hits—no doubt including the hip-hop song "Sleigh Ride" from that year's Home Alone 2 soundtrack.
It was like New Year's Eve in October when the Blue Jays won the World Series in 1992. Louise celebrated their historic win on the streets of Toronto with enthusiastic pot-banging and obligatory horn-blowing. The holiday season that year brought a plethora of Blue Jays memorabilia, including a team Christmas card and Christmas tree decorations. The one of Joe Carter is a must-have for any baseball fan who remembers that night.
In 1992, having just moved west to Victoria from Toronto, Merrie-Ellen attended her first Tuba Christmas, a musical event that began in 1974 at New York City's Rockefeller Center and now takes place in cities around the world. She still goes every year, usually in torrential rain or an arctic gale, for that beautiful, rich sound and all the brass decorated for Christmas.
In 1992, the Newbery Medal for children's literature went to the prolific Phyllis Reynolds Naylor for Shiloh, a book for ages eight through twelve about a boy, a dog, right and wrong, and love. Earlier this year, Rowena read the story aloud to her eight- and ten-year-old daughters. They enjoyed it so much that they're reading their way through the other three books in the quartet: Shiloh Season, Saving Shiloh, and A Shiloh Christmas.
For Ruth, the days around Christmas offer respite from the office, and she delights in finding more time to read. But back in 1992, her hectic household with two young children didn't allow for delving into great long epics. A lovely publication by Robertson Davies, one of her favourite authors, fit the bill that year. Reading and Writing is a slim volume of two essays that Davies delivered in the Tanner Lectures series at Yale the previous year. Provocative, entertaining, and still current, the book offers a holiday escape for discerning editors—even those short of reading hours.