Handing over the red pencil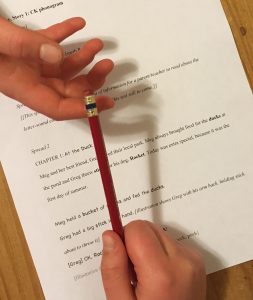 People often get a deeper insight into their profession when their table turns: teacher becomes student, doctor becomes patient, or, in my case, editor becomes writer. I've been writing for years and have been edited plenty of times. My graduate thesis, a handful of scientific articles, a host of technical reports: all were edited. I knew how it felt. Or so I thought.
For the past four years, I've invested copious time and energy—and especially heart—into a writing project with my sister, Elspeth, who teaches reading to children with a learning difference like dyslexia. To fill a gap in her teaching centre's materials, we started writing stories with highly controlled text to meet her students' reading level. The stories also had to appeal to six-to-nine-year-olds. We brainstormed, wrote, revised, scrapped, rewrote, and re-revised.
When we decided to self-publish, we added cash to the time, energy, and heart fuelling the project. Three years in, we had a book concept, four draft stories, an illustrator and designer named Elisa Gutiérrez, and a publishing plan (which involved support from Page Two Strategies and ZG Communications). But we didn't have an editor.
We knew we needed an editor. Elspeth and I were newbies—she to writing and me to writing fiction. Our stories needed both structural and stylistic help, but I was nervous about sharing our brainchild. Finding an editor wasn't as easy as I thought it would be (a story for another post), but we eventually found Susan Korman, a freelance editor with deep experience in children's publishing and editing.
When Elspeth and I had compiled our manuscript to send to Susan, I became even more nervous. What would she think of our idea and writing? Were our stories ready for editing? With prodding from Elspeth, who as a non-editor was bemused by my nerves, I finally hit send. Then I waited with fidgety fingers.
A few weeks later, Susan's return email arrived. My heart thumped. My hands sweated. I clicked and the document blinked open on my screen. It blinded me with a sea of colour. Gasp! Our stories are terrible! Deep breath. I began reading Susan's edits, comments, and queries. She was honest. She told us where our stories went astray and where our writing didn't cut it. Initially, I spoke aloud to my screen: Yes, but… No, but… Susan also told us what worked, and she gave us ideas. By the end of my first read through, I had recovered, and my heart lub-dubbed in normal range. Susan had done her job, magnificently.
Elspeth and I reworked and revised. We altered scenes, found more descriptive language, gave our characters oomph. We took Susan's advice in most (but not all) instances, and our stories improved. And throughout this experience, so did something else: my appreciation of writers who send their work to me to edit. I hadn't previously understood how much of a writer's soul can go into a manuscript. Now I do.
I came away with a richer understanding of the writer–editor relationship and with a heightened resolve to stay true to the things I learned about editing and querying when I was a lowly intern at a publishing house. When I sit on the editor side of my table, with red pencil literally or figuratively in hand, I strive to:
Be sensitive. Many writers pour their heart into their manuscript. Every piece of writing contains something positive, so find this nugget and acknowledge it.
Be kind. It can be hard for writers to receive criticism of their writing, even when it's constructive, so phrase comments and queries with tact and a degree of gentleness.
Be honest. Writers who seek and pay for editing want to make their manuscript as good as it can be. If something isn't working, say so. (But apply the previous point when giving this feedback.)
Be specific. It's much easier for writers to revise passages or rework chapters if they understand why the original wasn't working. Think deeply as the manuscript's reader and give explicit comments. If it makes sense in the circumstance, suggest new wording or other ideas.
Be real. It's immensely reassuring for writers to know that their editor—the person they're entrusting with their "baby"—is a real person. Make the effort to form a connection, whether it's meeting the writer for a coffee or having a phone or Skype chat.
For another take by an editor-turned-writer who worked with an established publishing company, read WCEA partner Merrie-Ellen Wilcox's post titled Changing hats.