Supporting self-publishing authors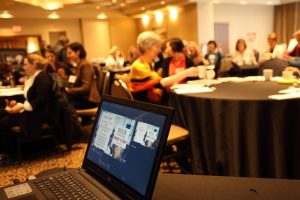 In March, I had the opportunity to attend the Book Publishing Boot Camp. Put on by LifeTree Media and business coach Pamela Chatry, this day was a chance to connect with authors, hear about their work, and talk to them about the importance of hiring a good editor. I was impressed by the authors' passion and determination; I was also struck by how savvy some of them are. I met one woman who is in the early stages of writing her book but is already consulting with marketing and social media experts and creating a marketing plan.
One of the key messages of the day was how important it is for self-publishing authors to surround themselves with a great team. I think all participants left understanding that having a strong editor by their side will help them succeed.
No doubt about it, self-publishing is exploding and there is a great deal of work for editors interested in this area. But working with a self-publishing author requires an editor to wear many different hats. Some authors may have little understanding of what's involved in publishing their book. Some may not know what editing means or how much an editor can improve their manuscript. Self-publishing authors are also hugely invested in their book—both emotionally and financially—and may bring a lot of fear to the process of working with an editor.
While the boot camp didn't focus specifically on author-editor relations, this day gave me a chance to consider how daunting self-publishing is from the writer's perspective, and to think about how editors can best support authors and ensure everyone is happy.
Here are a few tips for editors working in this burgeoning area.
Find out as much as possible about the book beyond its need for an editor. Ask about scheduling, budget, design, marketing plan, and printing, as well as the author's goals, experience, and expectations. You'll learn a lot more about how you can best serve the author, and you will get a sense of your compatibility.
Be prepared to explain the various types of editing. Self-publishing authors may know very little about editing. And they may have been so focused on presenting their point of view that they haven't considered the perspective of their reader.
Sometimes an author is not yet ready for an editor. If this is the case, the best service an editor can offer is a manuscript assessment so the author can rework their book before having it edited.
Beyond editing, it can be extremely helpful to explain the entire self-publishing process. Editors don't have to be marketing pros or social media mavens, but they should know that an author's platform is one of the key ingredients to publishing success, that an author should be thinking about the marketing plan for their book as early as possible, and that hiring a professional book designer is essential if they want their book to look professional. My favourite resource is Jane Friedman's website and blog, which offers a wealth of information for self-publishing authors.
You may be the first publishing contact for an author. However, chances are high that they are looking for other publishing professionals. Expand your network so you can refer the author to an experienced book designer, illustrator, social media expert, or indexer. You don't have to get involved in the entire process, but helping find other strong team members will make you more valuable to the author.
The boot camp ended with a panel of five women who had all recently published books. What struck me was how fearless and tenacious they all were. It takes great courage to write a book. It takes even greater courage to self-publish. Editors are in a unique position not only to help authors write a better book but also to guide them through the daunting process of launching it into the world.