An energizing week with young readers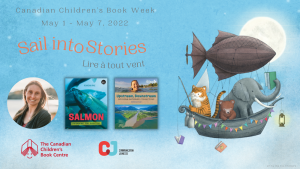 Since 1977, the Canadian Children's Book Centre has organized and hosted an annual book tour for children's authors, illustrators, and storytellers to crisscross the country speaking with children and teens in classrooms, libraries, and homes.
Held during the first week of May, this year's book tour was entirely virtual for the second year running and included more than 50 creators sharing their love of books and reading. WCEA partner Rowena Rae was one of them, giving two presentations: We're All Connected, based on three of her non-fiction books about ecology for middle graders, and How to Be a Non-Fiction Writer in Six Steps.
Rowena "visited" libraries and homes in Midland and Oshawa, Ontario, and schools in each of Milton, Ontario; Listuguj, Quebec; Winnipeg, Manitoba; and Faro, Yukon Territory. She also recorded one of her presentations to send to a school in Tuktoyaktuk, Northwest Territories.
Rowena ended the week energized by the enthusiasm she witnessed, the creative responses students gave to her prompts, and the fun questions she fielded. Among the usual questions middle graders ask — How many books have you written? Is it hard to write a book? What's your favourite animal? How old are you? — was a new one: Do you have to be old to write a book? There's never a dull moment when speaking with middle graders.