Working with a workplace writing coach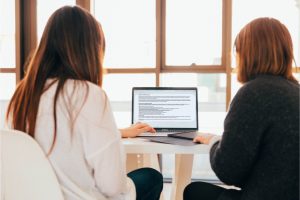 Many people need to write daily in their workplace. Some enjoy writing, others don't mind it, and still others find writing difficult or even stressful. Wherever you are on this spectrum, you may find it helpful to work with a writing coach. If writing comes fairly easily to you, coaching can help you improve your skills. And if writing is a task you routinely put off, coaching can provide tips, techniques, practice, and resources to ease the agony.
Any of our writing workshops can be followed up by individual or small-group coaching for workshop participants, and we also offer writing coaching as a stand-alone service. Coaching sessions can be in person or on Zoom, and we can do as few or as many as you need. We find that as follow-up from a recent workshop, having just one or two sessions often works well. For stand-alone coaching, a few more sessions may be helpful, but needs vary, and we are entirely flexible.
What to expect from a workplace writing coach
As we do with our writing workshops, we tailor our coaching to meet each client's specific needs. You may be interested in having our help to hone your plain language skills, structure a report, or brush up on grammar. You may want all of these, or you may have other areas in mind. Or, you may not be sure what you'd like to work on. No problem!
Regardless of where you are with your writing, we will:
Ask about your writing strengths and weaknesses, and the areas you'd like to focus on
Ask for representative samples of your writing that we will read to see what is working well and what might be causing problems for your reader
Create and discuss with you an individualized plan of topics to cover
Hold face-to-face (or screen-to-screen) sessions to talk about problem areas and look together at examples in your writing
Provide mini lessons on topics relevant to your writing, from planning to proofreading and anything in between
Lead you through live practice at revising your work using tips and techniques discussed
Suggest practice exercises to do on your own at another time or together during a coaching session
Provide links to online resources, like writing guides, revision tools, and readings
Answer your questions as they arise during sessions and, if helpful, by email at other times
What not to expect
To coach, according to Merriam-Webster Unabridged online, is "to train intensively by detailed instruction, frequent demonstration, and repeated practice." Therefore, as coaches we won't write a document for you, nor will we edit it—though we may edit parts of it while demonstrating a particular writing or revision technique.
And, of course, if you in fact would like to have a document edited, West Coast Editorial Associates has you covered there, too. Whatever your needs, we can help you with the words in your workplace writing.