Prize-worthy children's books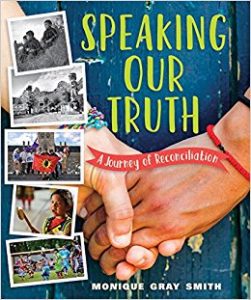 Finalists were recently announced for the Canadian Children's Book Centre Awards and the Victoria Book Prizes, and we were thrilled to see three books we worked on for Orca Book Publishers among the nominees.
Speaking Our Truth: A Journey of Reconciliation (by Monique Gray Smith) is up for both a CCBC award (the TD Canadian Children's Literature Award) and a Victoria Book Prize (the Bolen Books Children's Book Prize). [Update: Gray's book was awarded the Victoria Book Prize on October 17.]
On Our Street: Our First Talk About Poverty (by Dr. Jillian Roberts) is also nominated for the Bolen award in Victoria.
And Blood on the Beach (by Sarah N. Harvey and Robin Stevenson) is up for the CCBC's John Spray Mystery Award.
WCEA partner Audrey McClellan proofread all three nominated books, and our warm congratulations go to Orca and the authors for these well-deserved recognitions.
Partners Merrie-Ellen Wilcox and Rowena Rae regularly edit Orca titles too. In fact, both are also on Orca's list of authors. Merrie-Ellen's What's the Buzz? Keeping Bees in Flight was published in 2015, and her new book, After Life: Ways We Think About Death, launched earlier this month. Rowena's Our Chemical World is forthcoming with Orca in fall 2019.