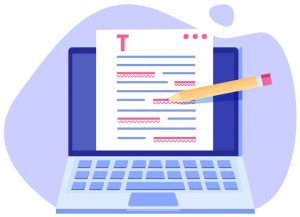 PerfectIt, a style and consistency checker for editors, recently announced an integration with the Chicago Manual of Style that brings Chicago Style lookups right into Microsoft Word.
What is PerfectIt?
PerfectIt is editing and proofreading software that runs as an add-in within Microsoft Word. As of June 2019, there were more than 8,000 PerfectIt users across at least 72 countries, from individual editors to Fortune 500 companies like Microsoft.
PerfectIt is a tool to help editors save time. It checks for mechanical errors and flags potential issues but leaves the decision making (or should that be "decision-making"?) to the professionals: the editors and writers who use it.
PerfectIt's core philosophy is that people make the best editing decisions and they always will. We build technology to help people edit faster and better.
—Daniel Heuman, CEO, Intelligent Editing
What does PerfectIt do?
PerfectIt's default setting is as a consistency checker (for example, should a given term be hyphenated or not?), but it also gives you the option to check your document against a set of style preferences, also known as a style sheet. It includes style sheets for Canadian, US, UK, and Australian spelling, using as its sources the Canadian Oxford Dictionary, the Merriam-Webster Dictionary, the Oxford English Dictionary, and the Macquarie Dictionary. There are also several built-in organizational style sheets: United Nations Editorial Style, European Union Style, World Health Organization Style, US Government Publishing Office Style, Australian Government Style, American Legal Style, and now Chicago Style.
Suggested resources:
Chicago Style integration
In August of this year, PerfectIt introduced a new style sheet based on the 17th edition of The Chicago Manual of Style. It's included with PerfectIt 5, the latest version of PerfectIt, and PerfectIt Cloud and is available to individual (not association) subscribers to CMOS Online. Many editing associations have arranged for member discounts on PerfectIt and CMOS Online, including Editors Canada, whose members can save 30 percent on PerfectIt and 20 percent on CMOS Online. You'll need to link your PerfectIt licence with your CMOS Online subscription and then activate the Chicago Manual of Style style sheet.
Suggested resource:
What does PerfectIt's Chicago Style check for?
PerfectIt's Chicago Style provides "guidance on preferences, style, and usage," including spelling, capitalization, hyphenation and other punctuation, italics, and number use. Usage preferences derive from CMOS Online section 5.250, Good usage versus common usage.
But not everything in The Chicago Manual of Style is—or should be—built into PerfectIt. For example, Chicago Style is to capitalize "university" only when it's part of a proper name, but lowercase it otherwise. For checks like this, PerfectIt defers to its consistency checker to avoid giving excessive false positives that would slow down an editor's work. Also not included are terms such as "well-edited," which are highly contextual.
Editors spend a lot of time making decisions related to hyphens. That's because hyphenation depends not only on accepted usage but also on context—and sometimes on both.
—Chicago Manual
References and citations are also not addressed (yet) but are planned for inclusion in a future version.
What about Canadian spelling?
PerfectIt's Chicago Style uses Merriam-Webster for its spelling checks, which is a US English dictionary. You have the option to turn off spelling variations, which used to be the recommendation, but in doing so you lose some of the power of The Chicago Manual of Style since there is so much overlap between Canadian and US spelling. For example, Chicago Style will flag "amongst" and indicate a preference for "among," which is the same in both Canadian and US English. The current recommendation is to leave spelling variations on but run the spelling checks a second time with Canadian spelling selected.
Super style sheets
One of PerfectIt's most valuable features is the ability to create custom style sheets—for example, for your house style or a client's style. You can incorporate a variety of preferences, from very general to very specific, such as setting PerfectIt to suggest "West Coast Editorial Associates" as a preferred spelling for "WCEA."
You can also combine your style sheets by specifying one of PerfectIt's built-in style sheets as your root style, adding preferences from your own style sheet, and saving it as a new custom style. This allows you to layer your house style or client preferences on top of the guidance from The Chicago Manual of Style.
Unfortunately, this feature is currently available only in PerfectIt 5, not PerfectIt Cloud, which limits it to PC users right now, although the plan is to more closely align the desktop and cloud versions in the future.
Suggested resources:
PerfectIt + Chicago Style in action
PerfectIt's consistency checker flags style differences within a document, such as spelling or capitalization. For example, if "West Coast" and "west coast" are both used within a document, PerfectIt will flag this and ask you to choose your preferred capitalization (Figure 1). Using the Chicago Style integration, PerfectIt flags the lowercase version, "west coast," and displays the relevant advice from CMOS Online as well as the corresponding section, 8.47, Regions of the world and national regions (Figure 2). Clicking on "See more" displays the section text, which indicates that "Terms that denote regions of the world or of a particular country are often capitalized" (Figure 3). You can also click on the section number (in red) to go to the specific section in CMOS Online.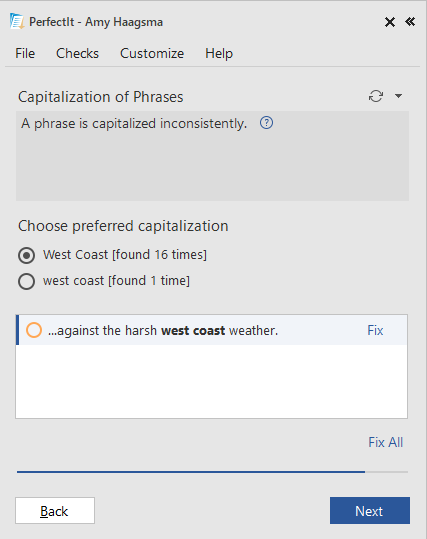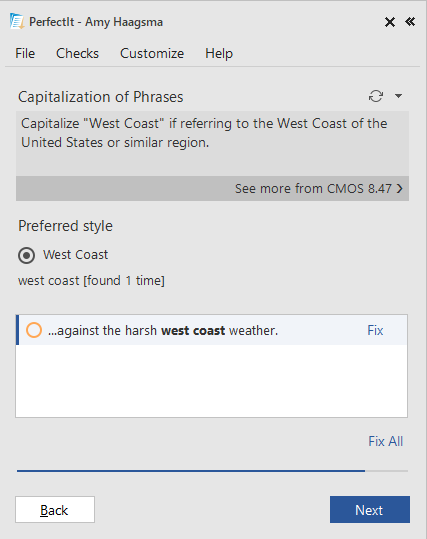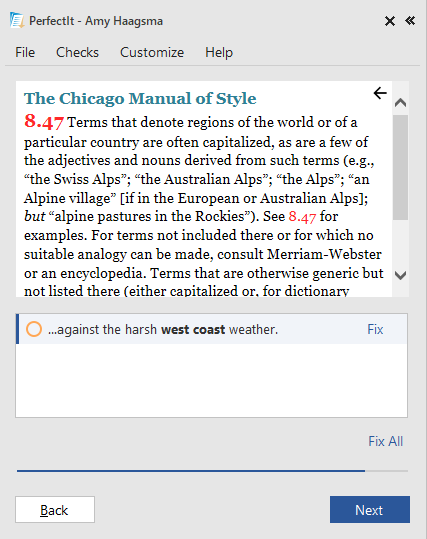 How can I find out more?
There are many resources available on using PerfectIt generally and on the Chicago Style integration: