New book by WCEA partner sheds light on watersheds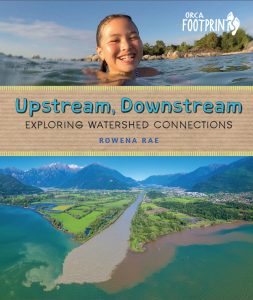 Rowena Rae has another new book out this month with Orca Book Publishers. (Our prolific partner also had a book out in August, the third in her Meg and Greg series, and she has another two titles forthcoming in 2022.)
Her newly released work, Upstream, Downstream: Exploring Watershed Connections, takes a look at something many of us take for granted, yet is enormously consequential to our daily lives.
"Writing this book gave me a chance to explore connections between land and water both near and far," Rowena says. "I love that we're all linked to each other and to nature by the land we live on and the water flowing over and within that land. It's a good reminder that what happens in one place makes a difference in other places too."
The book has already received high praise, earning a "highly recommended" rating from CM: Canadian Review of Materials and becoming a Junior Library Guild Gold Standard Selection.
Congratulations, Rowena!