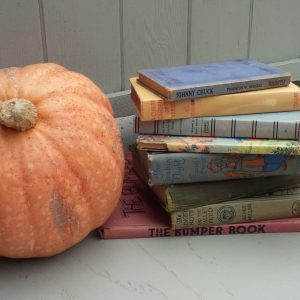 Thanksgiving is my favourite holiday. Lacking the hype of Christmas (at least in Canada), it's a time to be grateful for the things that enrich us—family, friends, and food for body and soul. In the latter category fall books, of course, and the people who make, promote, and love them.
Children's book writers and editors don't get the thanks they deserve. (I owe my career to writer and editor Shelley Tanaka, who patiently taught me the fundamentals of editing.) These folk are some of the most generous people in the industry, giving so much back to kids and their communities. Kit Pearson is one whose writing continues to resonate with generations of readers. If you are in Vancouver this month, you will find Kit on an exciting roster of writers at the Vancouver Writers Fest. That's an event inspiring gratitude!
People who read books aloud merit special mention. My father read to me about animals and nature, probably laying the foundation for my long association with educational publishing and biology, as well as my love of illustration. His go-to author was Thornton Burgess, and our most-read book was The Burgess Animal Book for Children. A peek inside reveals a magical blend of narrative, fact, and lovely illustration that my father so loved to share.
Not to be forgotten are librarians and booksellers of all stripes. They are lifelines for imagination and delight. Children's book librarians are especially gifted at ferreting out the wondrous and quirky. And if you despair about the demise of independent bookstores, give thanks for 16 of the best still thriving across Canada (and, of course, there are many more…).
Teachers, writers, family, and friends all shape what we read and what we become. Illustrator and author Jarret Krosoczka credits all of these people, and the many kids he's met, for inspiring him to pursue his dream. His moving and funny TED talk is worth spending time watching this Thanksgiving Day.
Who would you give thanks for? I'd add my remarkable partners in WCEA, past, present, and newly minted.