Divine Threads: A silky, sumptuous look behind the scenes of Cantonese opera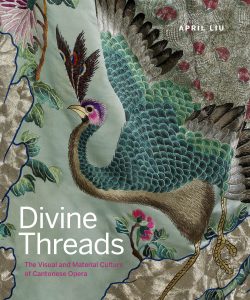 What a huge delight it was to attend the February 28 launch of Divine Threads: The Visual and Material Culture of Cantonese Opera, by April Liu.
The latest in a series of exquisite books co-published by Figure 1 and the Museum of Anthropology at UBC, Divine Threads tells the history of Cantonese opera, its trans-Pacific spread to diasporic communities like Vancouver and San Francisco, and the costumes, props, instruments, rituals, and performances that define this centuries-old art form.
This "dazzling work," as MOA director Anthony Alan Shelton puts it in the book's foreword, was copy edited by WCEA partner Audrey McClellan, and I had the pleasure of proofreading it.
Featuring a demonstration of traditional makeup and costuming practices, a display of some of the 800 objects in MOA's Cantonese opera collection, an illustrated talk by author April Liu, and a performance by Vancouver Cantonese Opera star and artistic director Rosa Cheng, the event not only launched a fascinating book, but brought it to life.