Book Publishing Boot Camp: A day of positive energy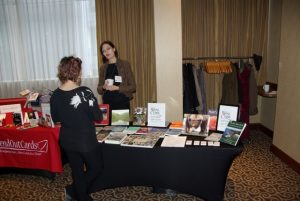 Three WCEA partners—Barb Johnston, Audrey McClellan, and Rowena Rae—recently attended Book Publishing Boot Camp in Vancouver.
Organized by publisher Maggie Langrick of LifeTree Media and business coach Pamela Chatry, the event introduced a roomful of entrepreneurs and professionals to the steps of the publishing process as seen by traditional and hybrid publishers, agents, and self-publishers. Former WCEA partner Nancy Flight was one of the presenters, and several speakers and panellists mentioned the importance of editing.
WCEA partners frequently work directly with authors, sometimes helping them manage their self-publishing project, and we displayed a variety of those books at our table. We also spoke to several authors and aspiring authors. The room was full of positive energy, and we left the event feeling excited and inspired.
The organizers plan to make this an annual event, and we're already looking forward to next year!