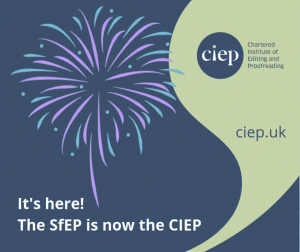 In the midst of a global pandemic and social distancing, many editors may have missed a significant change in name and branding of a 32-year-old editing organization. On March 1, 2020, the Society for Editors and Proofreaders (SfEP) became the Chartered Institute of Editing and Proofreading (CIEP).
Since its founding in 1988 to provide support and networking opportunities for editorial freelancers, SfEP has focused on training and on setting and maintaining high standards in editing. According to the group's website, "The Society ran its first one-day courses in 1989, and later offered bespoke in-house training for organisations . . . A 44-page Code of Practice was first issued in 1995, setting out the professional standards of work, practice and conduct expected of all members." The society offered certification for editors and has also been involved on BSI and ISO committees on editorial standards.
WCEA partner Ruth Wilson can testify to the rigour of SfEP training materials: "I became familiar with SfEP as part of the Certification Steering Committee for Editors Canada when we were laying the groundwork for our own certification tests. We spent considerable time researching what other organizations had on offer. SfEP's materials were, and continue to be, world-class. I still use some of their materials in my own workshops, and in my day-to-day editorial practice, I aim to uphold their high standards."
In April 2016, the society began pursuing chartership, which required satisfying the UK government "that a charter would be in the public interest." The SfEP had to show editing is a unique profession, and had to prove that most UK editors were members and were "qualified to degree level or equivalent." Gerard M-F Hill, the society's chartership advisor, reported on meeting with representatives of the Department for Culture, Media and Sport and the Department for Innovation, Business and Skills, noting as an aside: "One [of the department reps] had a horror story of a report for Parliament that ignored the style guide and typographical specification and had to be pulped; she really lit up when we explained that this is the sort of thing our members watch for."
In an extensive Chartership FAQ, the CIEP explains that "chartered status will allow us to build a greater appreciation of good editing (in its widest sense), based on recognised qualifications, high standards and a better understanding of what editorial professionals do, both for people entering the profession and for those using our services. We hope that will in time bring about a commensurate rise in status and pay, and place more value on using editors and proofreaders who are properly trained and who work to CIEP standards."
This is something for all of us to celebrate, but because of the COVID-19 pandemic, the parties have been curtailed. The Chartered Institute of Editing and Proofreading announced the name change on March 1, and there was to be a formal launch, with media, at the end of March, as well as events at the London Book Fair and organized by local groups. All these have been cancelled or postponed. Still the celebration continues online, with groups meeting by videoconferencing and members and supporters sending congratulations on Twitter and Facebook. Join the party by visiting the CIEP website, which is a wealth of information to entertain you through self-isolation: blogs, recommended reading, fact sheets, self-tests, standards, and more.