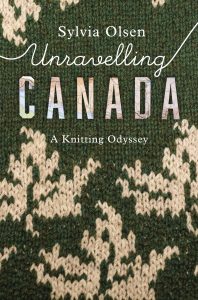 If you live on southern Vancouver Island, may we suggest starting this weekend off early with a literary afternoon in the park?
On July 16, author Sylvia Olsen is giving an outdoor reading from her bestselling book Unravelling Canada: A Knitting Odyssey, edited and proofread by WCEA partners Audrey McClellan and Lucy Kenward, and published by Douglas and McIntyre.
Presented by Sidney LitFest, the event is taking place in Pioneer Park in Brentwood Bay, with Ian Haysom, author of Grandfathered, also participating.
Enjoy!