Louise and Georgina down their tools—and pick up new ones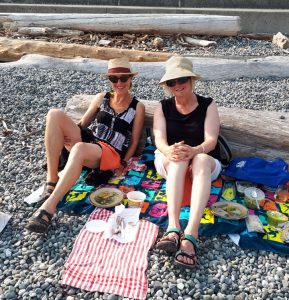 Ever wonder what editors do in their retirement? Does an armchair, along with a large pile of books, a steaming cup of tea, and a purring cat or two, come to mind? That might be the dream for some, but "taking it easy" isn't in the lexicon of our retiring partners, Louise Oborne and Georgina Montgomery. On January 1, 2018, they put away their editing tools—pencils, dictionaries, and style guides—and replaced them with different ones.
Art has been in the picture for both of these editors extraordinaire since childhood, and in their retirement it will be squarely in the foreground. You'll find both Louise and Georgina in their studios, working with paintbrushes, paint, and canvas.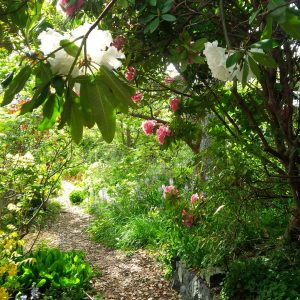 Louise started in studio art as an undergraduate at York University before switching to art history. She put herself through school by working as a graphic artist at a printing company. After graduating, she did graphic design for a book packaging company, where she also trained as an editor. She wore both hats for many years, eventually working as a production editor in educational publishing.
Line, colour, texture, and form continued to beckon, however, and in 2000 Louise took a course at the Victoria School of Art, picking up where she had left off in university. Her works have since been shown in numerous local galleries and exhibitions, and they can be found in private collections in Canada, France, and beyond, including those of several WCEA partners past and present.
When Louise moved to the west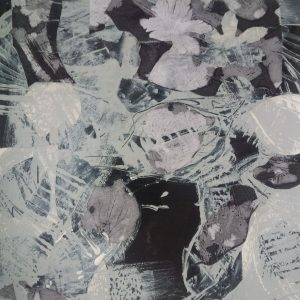 coast in 1989 to join her partner, Doug Rhodes, she worked as a freelance developmental editor for a variety of educational publishers. In 1993, the fledgling West Coast Editorial Associates asked Louise to fill in for a few months while editor Nancy Flight was on sabbatical; after Nancy's return, Louise was invited to stay on.
Louise says the themes of nature and landscape, informed by her Asian and contemporary art studies and her experiences in the wild, have given way to more calligraphic/contemplative work on paper, largely inspired by an intimate 30-year relationship with a productive food garden and its myriad plants, pollinators, and birds. So if retirement doesn't find her in her studio, there's a good chance she'll be working in the garden, alongside Doug.
Georgina's father was a serious recreational painter, so she and her siblings had plenty of exposure to art, artists, and art supplies. In school she was also drawn to words and to writing. As many editors do, Georgina found her way to the trade circuitously, even accidentally. She studied geography, with a focus on urban planning and resource development, first in Montreal and then in Victoria. Two planning co-op jobs, in Victoria and Ottawa, and contracts with management firms in Vancouver had set her on the consulting path. Other adventures intervened, though, including travel, some freelance writing assignments, and even a stint as a bookseller at Munro's Books, and when an opportunity to edit forestry research publications for the BC government came along, she leapt at it. By the time Georgina joined WCEA, in 1995, she had built up a solid client base and a wealth of editing know-how.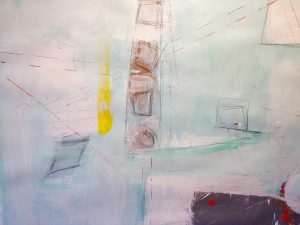 But that child's play with paint was always tugging at her sleeve. When she wasn't meeting writing and editing deadlines, teaching, or parenting, she was dancing around the edges of art, dabbling in things like stained glass and collage. In the last 10 years, the pull became irresistible, and the desire to capture ideas in words shifted to the desire to capture them on canvas, specifically through abstract painting.
True to form, Georgina will be packing her days as fully as she did when she was working as an editor, so artwork will still have to duke it out with the other 273 items on her list of next-chapter activities. Like, for instance, boating with her husband, Lawrence Pitt, on their 34-foot motor vessel, doing some "big walks" at home and abroad, and volunteering in the community.
Whatever they turn their hands and minds to, we know that Louise and Georgina will do it with their usual style, brilliance, and grace, and we look forward to seeing the fruits of their new labours. Happy onward, dear partners!