Join the exaltation of editors flocking to Toronto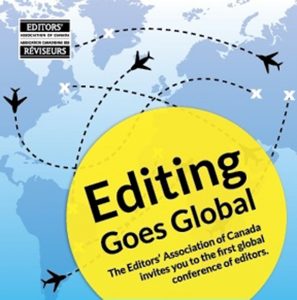 From June 12 to 14, the Editors' Association of Canada is hosting its annual conference, this year in Toronto (and this year co-presented with the Professional Writers Association of Canada).
Dubbed "the first global conference of editors," the Editing Goes Global gathering will see editors from around the world assemble for three full days of workshops, presentations, panel discussions, and, of course, networking. More than 40 speakers—including those from Canada, the United States, Ireland, India, Australia, and New Zealand—will share their knowledge in more than 60 sessions.
Keynote speakers are Carol Fisher Saller, editor of the Chicago Manual of Style's online Q&A, and Katherine Barber, former editor-in-chief of the Canadian Oxford Dictionary.
West Coast Editorial Associates will be well represented at the conference by partners Frances Peck, Ruth Wilson, and Yvonne Van Ruskenveld. Frances, on the bill as a "premium seminar presenter," will give a workshop titled "Grammar Rules and Myths." Ruth and Yvonne will present a session titled "'Good Enough' Editing with Open Educational Resources."
The Saturday night banquet is always a popular event. Post-dinner highlights include the presentation of a range of awards, among them recognition of outstanding volunteers, the Tom Fairley Award for Editorial Excellence, and the Claudette Upton Scholarship (in memory of editor par excellence, active EAC volunteer, and WCEA founding member, Claudette Reed Upton-Keeley).
For more information about the conference and how to register, click here.