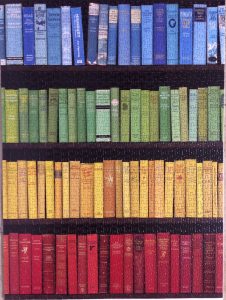 As editors and word enthusiasts, we pay close attention to new entries in the various dictionaries we use to do our work. But in these weird and worrying days, it's hard to be enthusiastic about the new terms that not just editors but all of us have become far too familiar with: COVID-19, self-isolation, social distancing, contact tracing—you get the idea.
To divert ourselves from the reality that this new lingo represents, here are some of the rejuvenating pastimes we've been turning to.
Audrey has been hooked on Backlisted, a British literary podcast introduced to her by partner Merrie-Ellen (who also led us to the Slightly Foxed Podcast last year). The motto of Backlisted is "Giving new life to old books," and Audrey has been binge-listening to the 100+ episodes over the last few weeks—adding many titles to her To Read list.
Barb, in isolation with her husband and two daughters, her mom, and the family dog, has discovered that puzzles are incredibly satisfying and that holding impromptu goofy family dance parties is great entertainment ('70s disco is best). She also finds that going for a daily walk or hike is essential to her mental health.
Frances recommends this list of 10 virtual resources for writers—including book clubs, critique groups, writing prompts, and inspirational art resources—curated by the good people at Writescape.
In daily rambles with her son around the quiet UBC campus near her home, Lana has been noticing numerous pleasurable things she previously overlooked, including the Campus Botanica project's small signs. Placed beside various trees and plants around campus, these unassuming little signs offer short stories, poems, histories, and other culturally diverse perspectives about the species they identify.
Fresh air and movement are a big part of Lucy's life. Regularly riding her bike and running, she's also walking to slow down, breathe deeply, and connect with her neighbourhood. Admiring the local trees and gardens in bloom is inspiring her to learn about cherry cultivars. And big colourful murals and public art installations are brightening her days. At home? Hula-hooping and skipping are great in small spaces.
In addition to reading (and reading and reading), Merrie-Ellen is listening to audiobooks of old favourites like The Wind in the Willows, The Secret Garden, and The Chronicles of Narnia. Yes, children's books. But also adult non-fiction, like The Living Mountain by Nan Shepherd, The Peregrine by J.A. Baker, and How to Eat by Nigella Lawson. Perfect accompaniments to puzzling over jigsaws like "I'd Rather Be Reading."
Rowena has been inspired by her schooling-at-home kids' enthusiasm for drawing. The trio sit outside and draw whatever strikes their fancy—flowers, birds, clouds, imaginary creatures. If you want to try drawing but aren't sure how to get started, look for a video that piques your interest on Skill Share. If you have keen kids, check out these videos on Open Culture. Better still, grab any pencil or pen and a piece of paper, find a sturdy surface, and start drawing!
With recreation centres closed and team sports on hold, Ruth can be found jogging on nearby forest trails and cycling on the maze of bike-friendly routes in Metro Vancouver. At home, she takes comfort in the renewal of life, tending to her spring vegetable planting, and filling the house with music from just one of many online options.
How about you? What diversions have you been turning to?
As we wait for the days of social closening that must inevitably come, we wish all of you good physical, mental, and emotional health.