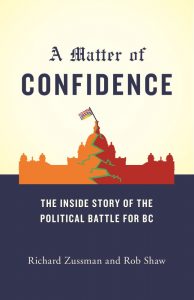 We're always thrilled to see a book we have worked on appear on the BC Bestseller List, and especially when it hits the number-one spot.
That is the case with A Matter of Confidence, by Richard Zussman and Rob Shaw, which has topped the list for three consecutive weeks. Partner Merrie-Ellen Wilcox edited the book for Heritage House.
Also on the list for more than 10 non-consecutive weeks over the winter were The World's Most Travelled Man, by Mike Spencer Bown, which partner Audrey McClellan copy edited for Harbour Publishing, and Speaking Our Truth, by Monique Gray Smith, which Audrey proofread for Orca.
Congratulations, all!