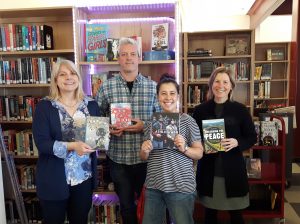 Sarah Ng is passionate about school libraries, especially the one at Britannia Secondary School in Vancouver. When Sarah was a student at the school in the 1980s, she and the other kids not only had to leave their classrooms to get to the library, they had to leave the school and walk down the lane.
At that time, the school library was located at the Britannia branch of the Vancouver Public Library (VPL) and the books were shared with the local community. It wasn't an ideal arrangement for either the students or the library, but it was a compromise worked out when an elementary school joined the secondary school campus in 1974.
Britannia Secondary School has changed a lot over the years. When it was built in 1908 it was the second of only two high schools in Vancouver. Today it's one of 18 secondary schools in the city. Located just off Commercial Drive, which leads from Strathcona and the Downtown Eastside in the north through the rapidly gentrifying Grandview-Woodland neighbourhood and south to the Broadway corridor, the school serves a large and diverse group of learners. Britannia's 625 students speak no fewer than 38 languages. A third are Indigenous. And for many of the school's students, Britannia is more than a place of learning. It's also a safe space where they connect with other students and trusted adults and access cultural and social support networks.
Teachers at Britannia had long identified the need for an area within their school where students could study, hang out before and after classes, and get basic learning materials—from pens and notebooks to books and study guides. So in 2018 the teachers converted their staff room into a library for students. They put up some shelving and repatriated the books the school had been sharing with the community through VPL. While some titles were out of date and many had been lost over the years, it was a start. For the first time in 44 years, Britannia Secondary School had its own library. And though the school budget covered only a very part-time librarian position, the teachers rallied so one person could staff the library full-time for six months to get it going. Now that position is two-thirds' time, and the library is open three to four hours every day, plus before and after school and at lunchtime.
Sarah Ng is Britannia's teacher-librarian. She's created the zero-barrier space she'd have loved when she was a student. Learners can take the stationery they need, free of charge. They can print out school assignments on the library's printer, at no cost. They can borrow books at any time, without incurring late fees or other fines. As long as learners respect the library, and the books and people in it, everyone is welcome. And students have been coming regularly.
In 2019, West Coast Editorial Associates made a donation to Britannia Secondary School through the BC and Yukon Book Prizes' Adopt-a-Library program. WCEA partners give back to the editing, writing, and indexing communities in many ways. We are active members of and volunteers on the boards of professional associations. We serve on committees. We teach students. We speak at conferences and in the media. We fund scholarships and awards. The best part is when we can see that we've made a difference.
In March 2020, Sarah invited WCEA to visit the Britannia school library. Partner Frances Peck and I, along with Book Prizes executive director Sean Cranbury, went to present a set of books. Sarah described Britannia's learners as bright, curious, and open-minded. Many of them have learning challenges. A good number are reluctant readers. Sarah had asked for titles that would challenge students to think widely and explore new ideas. Among the selection were novels by Eden Robinson and Amber Dawn, memoirs by Lindsay Wong and Darrel J. McLeod, books about contemporary BC politics and Indigenous art and environmental justice. In short, titles to inform, inspire, and spark discussion.
We visited just before March break. A student volunteer was cataloguing and reshelving books. Three boys were playing video games. Several learners breezed in and out, looking for school supplies or printing off a last-minute assignment. Everyone was relaxed and happy. I thought about how important it is to have a dedicated space where kids can unwind, where they can relax or talk to someone or get information or lose themselves in a book. The school library at Britannia is that place, as are hundreds of school libraries across the province.
Thank you to teacher-librarians like Sarah, and forward-thinking organizations like the BC and Yukon Book Prizes, for giving kids the support and the resources they need to become lifelong readers and active, engaged citizens.