Summer viewing, on the ice

I don't watch a lot of television. And though I've seen numerous clips from America/Britain/Canada/Outer Slobovia's Got Talent! circulated by friends on email, I've studiously avoided getting hooked on reality TV shows . . . until this summer. Over the past few weeks, reality TV has intersected with my editing life, and Alone: The Arctic on History Channel has become appointment viewing every Thursday night so I can watch the progress of one of my authors.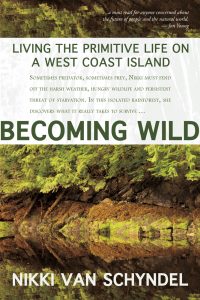 Six years ago I edited Becoming Wild: Living the Primitive Life on a West Coast Island by Nikki van Schyndel. Nikki had been a competitive equestrian, a sponsored snowboarder, and a party girl with perfectly manicured fingernails. When she was 29 she rediscovered her childhood dream of living in the wilderness like Sam Gribley, the main character in Jean Craighead George's My Side of the Mountain. She attended WOLF School of Natural Science to learn the survival skills she would need. Then, with Micah Fay, a fellow WOLF student, she lived on an isolated, uninhabited island in British Columbia's Broughton Archipelago for 19 months, living off the land and water.
Nikki returned home to the Lower Mainland, but lasted only three weeks before heading back to the Broughton Archipelago. She now lives in the remote coastal community of Echo Bay, BC, where she wrote her book and offers adventure tours. I've stayed in touch, following Nikki's alter ego in the "Chronicles of Daisy Crocket" blog, and earlier this year she sent out a newsletter, announcing "The Secret Is Out! I finally agreed to go on the TV series ALONE."
"I had the best time ever!" Nikki wrote, "10 of us are dropped off in the harsh, winter landscape of the Arctic with only 10 chosen items. We are to survive off the land for as long as we can and whoever lasts the longest, brings home $500 000. There are no film crews with us, we make the entire show ourselves! I'm so excited to share my story with you. As survival treks always do . . . it changed my life for the better."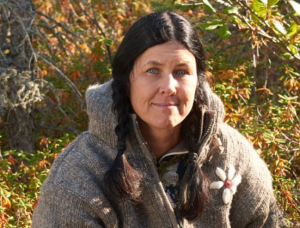 As I write this, I'm waiting for episode eight of the series, and the contestants have been on the shores of Great Slave Lake in the Northwest Territories for 41 days. Four men have "tapped out," leaving three men and three women, including Nikki, still in the wilds. Watching is nerve-racking, since the teasers before commercials and at the end of each episode make viewers think the contestant they're rooting for has failed to continue. Nikki has had particularly bad luck, cutting herself in the first episode, stabbing herself with an arrow, setting her shelter on fire, and, most recently, being bitten by a squirrel. But with nails still manicured and brightly painted, she is amazingly tough and fearlessly optimistic. I'll continue watching, biting my own nails, to see how she fares.
Bonus!
Reality Show Book Recommendations
I may not watch reality shows on TV, but I can highly recommend three novels in which reality shows play a crucial role.
Lost and Found by Carolyn Parkhurst features an Amazing Race type show, told from the viewpoints of various contestants and the show's host.
Nice Try, Jane Sinner by Vancouver author Lianne Oelke takes on the TV show Big Brother in a diary format, written by the title character and contestant.
Eligible by Curtis Sittenfeld is a modernization and Americanization of Pride and Prejudice, featuring a reality dating show.