Guardians of the lexicons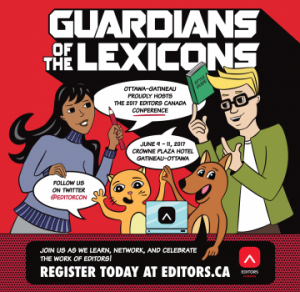 The countdown is on! The 2017 Editors Canada conference kicks off June 9 in Ottawa–Gatineau, in time for us to celebrate editing and Canada's 150th birthday.
Three partners are presenting:
Lana Okerlund—Crunching the Numbers: Performance Measures
Frances Peck—The Great That and Which Hunt
Ruth Wilson—The Art of the Query
We're eager to hear keynote speakers Cherie Dimaline and John McIntyre, and to tap into the intriguing lineup of sessions. And we can't wait to see founding member Nancy Flight receive the inaugural Karen Virag Award, which she won last October.
West Coast Editorial Associates is a proud sponsor of the conference.