Celebrating Canadian children's literature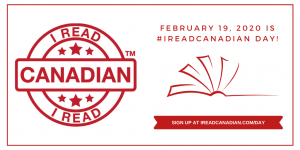 We at West Coast Editorial Associates regularly edit and proofread books created in Canada. And, yes, some of us write them too. Immersed as we are, it's easy to assume that everyone reads Canadian books. But a 2018 report by Canadian publishing industry veterans set the record straight: in 2005, about 27 percent of books purchased in Canada were written by Canadians; by 2018, that number had dropped to a mere 13 percent.
A new nationwide initiative is aiming to reverse that trend by exposing children to the richness, diversity, and breadth of Canadian books. The first-ever I Read Canadian Day is set for February 19, 2020. For the week of February 14–21, schools, libraries, and bookstores across the country are hosting events and putting up displays, encouraging young Canadians to "Read Canadian" for 15 minutes on February 19 and to share their experiences at their libraries and schools, with family and friends, and on social media (#IReadCanadian).
I Read Canadian Day is a collaboration of author Eric Walters, the Canadian Children's Book Centre, the Ontario Library Association, and the Canadian Society of Children's Authors, Illustrators and Performers. It's also associated with the I Read Canadian Fund, which supports getting new Canadian books into the hands of young people across the country.
So mark your calendars! On February 19, read a Canadian children's book yourself, or better yet, read one with a child you know.
Note: You can learn more about the story behind I Read Canadian Day in Heather Camlot's Quill & Quire article "Northern Exposure."