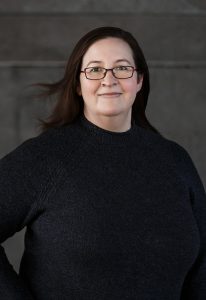 With a business degree in marketing from the University of Alberta, Amy worked in corporate marketing for over 10 years, including several years as communications lead for a large engineering consultancy. Prior to taking on that role, she completed a diploma in civil engineering, where she discovered her aptitude for technical writing and editing. Amy then decided to formalize her editorial training, enrolling in SFU's editing certificate and business communication and professional writing certificate programs. In 2014, she made the leap into freelance editing and writing.
Amy specializes in copy editing and proofreading and likes to get into the details of the materials she edits. She works primarily in non-fiction, with a focus on business and technical communication and academic writing. Amy is a Certified Copy Editor and Certified Proofreader through Editors Canada.
In addition to writing and editing, Amy is a graphic designer, preparing book and report layouts and cover designs. She also designs and manages a variety of websites for her clients and is webmaster for Editors BC and Editors Canada.
Amy manages social media for some of her clients as well, to help them build and maintain their online presence. Recently, Amy has been working with the British Columbia Medical Journal and the Children's Heart Network to bring attention to important news items, resources, and events.
Amy lives in Langley with her husband, son, and dog. When Amy's not working, she enjoys a good cup of coffee (or two) and reading one of the many books from her ever-growing "to read" pile.