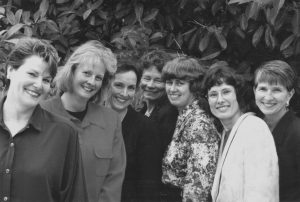 In May 1992, seven editors (Nancy Flight, Anne Norman, Claudette Reed Upton, Lois Richardson, John Ricker, Barbara Tomlin, and Yvonne Van Ruskenveld) drafted a letter of agreement and West Coast Editorial Associates (WCEA) was born. So this month we are marking our 25th anniversary with a refresh of our website and logo. That we are still going strong in 2017 is an achievement that both past and present partners can applaud, especially since many partnerships flounder, particularly if they have multiple members.
Why such longevity? Perhaps because we are:
Willing not wilful
Willingness abounds in WCEA. Partners pitch in on big, thorny projects with tight deadlines or take on time-gobbling proposals and administrative tasks without complaint. No one is ever left in the lurch. We have no prima donnas.
Collaborative not competitive
We began as a business co-operative to market our individual and collective services. Members retained their autonomy but shared administrative duties and marketing responsibilities.
From the outset, we've balanced individual projects with multiple-partner jobs. We think this approach is key to our success: we're at the helm of our own careers but we're not solitary. We have at our keyboards the expertise and support of trusted colleagues. This "strength in numbers" is not only a huge benefit to us personally but also to our clients, who can rely on us to get a team up and running immediately.
Established and evolving
In the early days, we worked hard to establish our organizational identity through concerted marketing efforts and participation in professional associations. We sent out mass mailings, made cold calls, shopped our portfolio around to publishers and corporations, and delivered workshops and presentations. When new partners came on board, we broadened our client base and further promoted our brand.
Today, our web presence and partners' social media accounts offer visibility and immediate contact. Our training arm allows us to promote not only ourselves but the value of clear communication. And our decision to evolve from a co-operative to a limited liability partnership has afforded us greater scope and capability. Dealing with an established partnership assures hesitant clients that we have the resources to get the job done, and we can address the increasing complexity of requests for proposals and contracts.
Active and accomplished
WCEA has always been active in professional associations. Giving back, we believe, moves us forward. It connects us to a new generation of editors and keeps us current. Throughout our 25 years, partners have been energetic volunteers for Editors Canada, serving on the executive and numerous committees, delivering seminars and webinars, presenting at conferences, helping shape professional standards and certification, and promoting events and awards. Partners have also participated in the Indexing Society of Canada, Plain Language Association International, the American Copy Editors Society, and the Professional Editors Association of Vancouver Island (PEAVI). Each association has enriched us.
Our professional accomplishments are many: we've delivered massive educational projects, award-winning trade books, complex government reports, in-depth corporate histories, and comprehensive training programs. We also can boast three Tom Fairley award winners, four partners with Editors Canada certifications, and three PEAVI founders.
But it may be our other accomplishments that knit us together: our collegiality, our deep appreciation of one another, and our implicit support during times of challenge or triumph. As I wind down my editing career, I look at my 24 years with WCEA as the most rewarding of my professional and personal life. I can't wait to see what happens next!